Vomitus is an unused Quake enemy. It was a large blob that would throw up smaller versions of itself (Spawn) to attack the player. The only information about it comes from the model in Qtest and from a interview focusing on John Romero for Quake's 10th birthday. [1] It did not move until it was shot at. At that point, it behaves exactly like the Spawn; slowly chasing Ranger and doing a benign assault when it arrives just next to him. [2]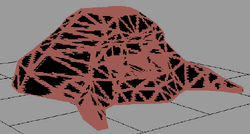 Death Messages
Edit
"Player" was vomited on by a Vomitus
References
Edit
↑ [1] Romero confirming that the Vomitus would throw up smaller versions of itself to attack the player.
Ad blocker interference detected!
Wikia is a free-to-use site that makes money from advertising. We have a modified experience for viewers using ad blockers

Wikia is not accessible if you've made further modifications. Remove the custom ad blocker rule(s) and the page will load as expected.