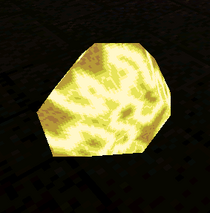 "
We'd like you to experience it before we let you in on what it does. Here's a hint: Ultimate retribution from the grave!
"
The Vengeance Sphere is a new multiplayer-only powerup introduced in Dissolution of Eternity.
Similarly to its Ground Zero counterpart, the Vengeance Sphere will strike at enemy players when the user's health drops under a certain point.
While this powerup is active, enemy players with low health are less likely to shoot at you. And if they do, they risk being killed, so grab the Vengeance Sphere whenever you can.
Death Messages
Edit
"Player" was purged by the Vengeance Sphere
Sounds
Vengance Sphere being used