05:42

The Installation

This page is intended to promote my solo project, Revenant.  The music consists of Doom and Quake references as well as Dead Space, Star Wars, and its own twist on the story, combining almost all elements of Doom and Quake together, with some influence of other ID software video games as well. I am also here to provide general update/mistakes information on the Wiki because I'm obviously a dedicated fan of Quake.
The word "revenant" is derived from the Latin word, reveniens, "returning".
A revenant is a visible ghost or corpse that was believed to return from the grave to terrorize the living.
The band name comes from Revenants which are found in Doom II : Hell on Earth, Tall skeleton figures with metal body armor and mounted rocket launchers. The name of the creator, Lord Reven, comes from a cross between an old Sith lord, Darth Revan, and the Revenants from Doom II. All the albums released from the band are connected in a unique fashion combining Quake, Doom, other Id classics, and also in the future will reference Dead Space and Star Wars. The band has self released an EP consisting of 4 tracks and 5 songs. The EP(picture to the right) was taking place in the Knee Deep in the Dead era of Doom. The next release was a full length album, linked in lyrical content to the EP and taking place in the world of Quake. The release planned to come after that will be in a new Dead Space perspective to add to the story.
Downloads:
Knee Deep in the Dead EP - http://www.mediafire.com/?xybq08l0cv387cq
Dominion of Darkness FULL LENGTH - http://www.mediafire.com/download/n4u99al4lcate6w/Dominion+of+Darkness+FULL+LENGTH.rar
The Story so far...
Edit
Playing the role of the "Doom guy" in the first episode of Do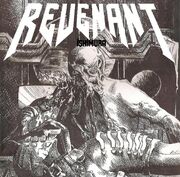 om : Knee Deep in the Dead, you travel through the hellish lands of the moon base on Phobos to find yourself ending your travels in the Doom era temporarily in a unintended sacrifice. (Referring to E1M8 from the first episode of DOOM, where the player gets trapped inside a dark room full of daemons who eventually kill you, which sends your soul to "The Shores of Hell", which is episode 2 of the original DOOM.) Then this allows your spirit to journey on to the next level of its path, which throws you into the world of Quake. Your quest will consist of collecting the archaic runes of the Elder Gods that are spread around the world of quake. Once all four runes are acquired, you will have the strength and knowledge to defeat the Hell Mother Shub-Niggurath. Once defeated, the Elder Gods will send your spirit into a twisted worm hole of time and space witch will throw your conscious into the perspective of Isaac Clarke in the world of Dead Space...