Toxic Waste Dump
Game
Unit
Connected Maps

Specific Information

Secrets

3

[Source]
The Toxic Waste Dump is where the toxic waste produced by the Strogg power plant is stored. The rea consists predominantly of corroded metal and features numerous pools and canals filled with flesh-dissolving slime reminiscent of that in Doom, as well as many large pipes passing through most of the rooms.
During the second visit to this level, the Strogg have erected several small barricades in a last desperate attempt to stop the human marine.
Quick Level Completion
Coming soon...
Walkthrough
Coming soon...
Differences from Easy to Normal
Coming soon...
Differences from Normal to Hard / Hard+
Coming soon...
Secrets
Coming soon...
Deathmatch
Differences
A teleporter is found on this map, located where a Beserker is hidden in single player mode.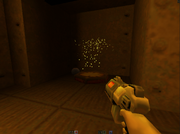 Ad blocker interference detected!
Wikia is a free-to-use site that makes money from advertising. We have a modified experience for viewers using ad blockers

Wikia is not accessible if you've made further modifications. Remove the custom ad blocker rule(s) and the page will load as expected.