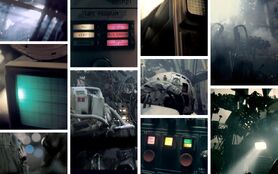 Sonic Mayhem
is the name used by German composer, sound designer and musician Sascha Dikiciyan for many of his works. Under the name, he wrote the music for
Quake 2
and its mission packs, as well as half of the music for
Quake 3 Arena
. He has also created music for several other games and other media projects. 
Throughout the years, Sonic Mayhem has collaborated with other musicians and composers such as Cris Velasco for a number of projects. 
Discography
Edit
Borderlands 2 (2012)
Mass Effect 3 Leviathan (ME3 DLC) (2012)
Mass Effect 3 (2012)
The Agency: Covert Ops (2011)
Mass Effect 2 Arrival (ME2 DLC) (2011)
Tron: Evolution (2010)
MAG (2010)
Mass Effect 2 Kasumi: Stolen Memory (ME2 DLC) (2010)
Borderlands (2009)
Mortal Kombat vs. DC Universe (2009)
Prototype (2009)
G.I. Joe: The Rise of Cobra (2008)
Haze (2008)
Beowolf (2008)
Hellgate: London (2007)
John Woo's Stranglehold (2007)
TMNT (2007)
God of War II (2007)
Dark Messiah of Might and Magic (2006)
Spyhunter: Nowhere to Run (2006)
Battlezone PSP (2006)
Splinter Cell: Double Agent (2006)
Terminator: Rise of the Machines (2003)
Music for Visual Media (2002)
Sonic Mayhem Promo 2001 (2001)
Quake III Arena Noize (2000)
Tomorrow Never Dies Video Game Soundtrack (2000)
Quake II Soundtrack (1997)
Methods of Destruction Quake Add-on (1996)
Ad blocker interference detected!
Wikia is a free-to-use site that makes money from advertising. We have a modified experience for viewers using ad blockers

Wikia is not accessible if you've made further modifications. Remove the custom ad blocker rule(s) and the page will load as expected.