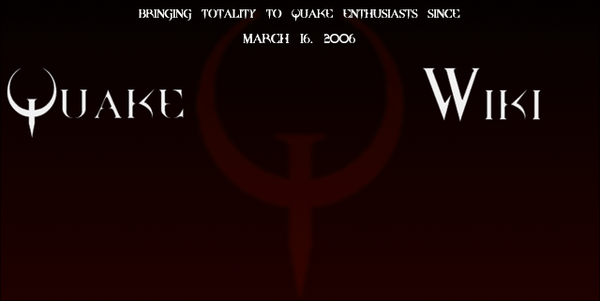 Introduction
Welcome to Quake Wiki, the best resource on the web for anything regarding id Software's Quake. We have your info on Shamblers and Railguns, Thunderbolts and Quad Damages, E1M1: the Slipgate Complex and The Nexus. We even have details on Commercial Add-ons such as Q2 and Dark Hour. No matter if you are a fan of the original Quake, prefer the Multiplayer environment of Quake 3 Arena, or enjoy the strategy-based gaming of Enemy Territory: Quake Wars; there is something for you here.
Please create an account so you can become part of the community. Though not required, it allows you to have a personal identity and to be able to communicate with the other members.
Contact an administrator if you want help with the Wikia or the games, each administrator specializes in a large area of knowledge on the Wikia:
Important links
News
Hello and welcome to yet another year of Quaking. The Quake Wiki is bigger and better than ever, yet we have no intention to stop improving and expanding with new high-quality content!

One of the big changes you can expect this year is that we will (finally) improve that ETQW section of the Wiki - old Vorknkx has finally come around to playing it and has accumulated a lot of impressions and useful information. Expect to see it soon.

We also plan to get back to the exciting custom map series, which revealed to us a whole new dimension of abstract (and sometimes pretty weird) worlds, lost somewhere in the darkest corners of the great Quake multiverse.

We wish you a happy 2016 and many happy hours of Quake!

Read more >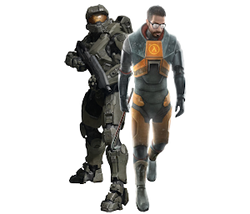 Shooter Games
Go to these sites for info or for help with your own wiki!
Agents of Mayhem • Battleborn • Battlefield • Borderlands • Brothers in Arms • Call of Duty • Counter-Strike • Counter-Strike Online / Counter-Strike Nexon: Zombies • Critical Strike Portable / Critical Ops • CrossFire • Crysis • The Darkness • Destiny • Diabotical • Doom • Duke Nukem • Far Cry • Gears of War • GoldenEye • Half-Life • Halo • Killzone • Max Payne • Medal of Honor • Overwatch • PAYDAY • Pixel Gun • PLAYERUNKNOWN's Battlegrounds • POSTAL • Prey • Quake • Red Faction • Resistance • SAS: Zombie Assault • Shadow Warrior • Splatoon • Star Fox • Star Wars: Battlefront • TimeSplitters • Titanfall • Tom Clancy's Ghost Recon • Tom Clancy's Rainbow Six • Turok • Warface • Wolfenstein
Want your community included? See how!