Home
Talk

30
941pages on
this wiki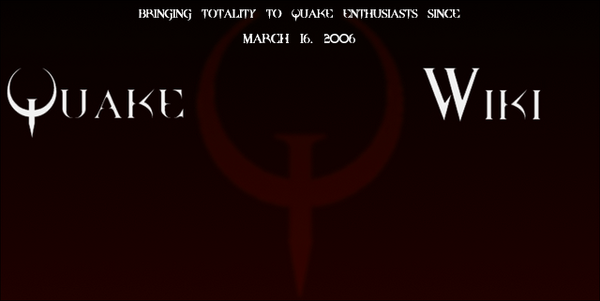 Introduction
Welcome to the Quake Wiki, the best place to visit when you want read anything about
id Software's
timeless
Quake series
. Do you want to find more about the monsters of
Quake
or the maps of
Quake 3 Arena
? Or perhaps you want to add your own knowledge and experience to this unrivalled database of Quake. Everything is here for you, faithful fans of Quake.
QuakeWiki has a dedicated team of admins: Raadec, Deathstalker666, Vorknkx and EmeraldWolf. If you have any questions do not hesitate to ask them. Please create an account so you can become part of the community. Though not required, it allows you to have a personal identity and to be able to communicate with the other members.
Contact an administrator if you want help about the Wikia or the games, each administrator specializes in a large area of knowledge on the Wikia:
The Quake walkthrough has been completed! If you are stuck fighting a Shambler or can't find all the secrets, go the Episodes of Quake page and you'll find everything you need to know. Also included is links to the weapons and monsters you'll encounter.
Important links
News
Create blog post
News
Hello Quake fans! If you haven't been aware, we have been working on getting every level of the Q2 add-on detailed to the point of being a complete walkthrough on par with the original Quake walkthroughs! Today marks the completion of that project, where I can now say with confidence that we are the number #1 source for information on Q2. So, if you have no idea what I am talking about and assume that I am talking about Quake 2, go check out the Q2 page to see a rather obscure add-on created not long after Quake's release. We also have walkthoughs (video and textual) for all Single Player and Multiplayer levels. So, if you are curious how Exile and The Walls Have Eyes are different; or if you wish to compare that rather similar levels of Eternity, Decrepit Solitude, Caliginous Minaret, and Underworld Excursion, go check out the 101 level pages!

Also, if you haven't noticed, this means that we have also cleared up a previously ambiguous issue in regards to Mods. Any Mod, Add-on, or whatnot may be added to the Wikia. I advise using Q2 for a good template. You may also want to check out the Policy in regards to such Custom Content. We have opened the floodgate to a world of new Quake info, which is especially useful as Quake is one of the most modded games of all time! I look forward to further expansion of the Wikia now that our limits are nearly endless!

Read more >
See more >