Home
Talk

28
783pages on
this wiki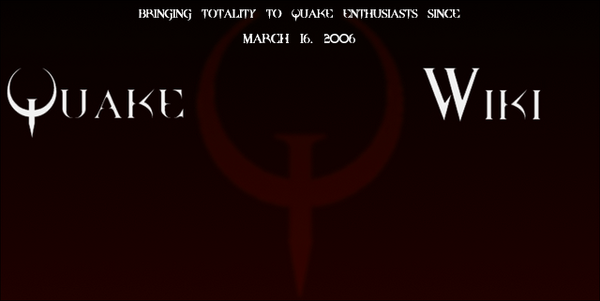 Introduction
Welcome to the Quake Wiki, the best place to visit when you want read anything about
id Software's
timeless
Quake series
. Do you want to find more about the monsters of
Quake
or the maps of
Quake 3 Arena
? Or perhaps you want to add your own knowledge and experience to this unrivalled database of Quake. Everything is here for you, faithful fans of Quake.
QuakeWiki has a dedicated team of admins, Vorknkx, Raadec, Deathstalker666 and Auguststorm1945. If you have any questions do not hesitate to ask them.
Please create an account so you can become part of the community. Contact an administrator if you want help about the wikia or the games, each administrator specializes in a large area of knowledge on the wikia. Also contribute to the Quake Tournament below to help decide the ultimate monster.
The Quake walkthrough has been completed! If you are stuck fighting a Shambler or can't find all the secrets, go the Episodes of Quake page and you'll find everything you need to know. Also included is links to the weapons and monsters you'll encounter.
Important links
Recent Activity

News

Create blog post

News

Wikia has implemented part of "Project Darwin" with the fluid layout, which has changed the spacing and altered some of the CSS. This means pages must be checked for their compatibility under the new layout and resized if formatting errors exist. Please be patient as the problems are fixed and report any such alterations to one of the administrators - Raadec, Deathstalker666 or Vorknkx.

Read more >

See more >
Recently Uploaded Images
Polls
Scourge of Armagon has been crowned the most favourite Quake game.

Thank you for your votes in the recent poll, Quake has been crowned the most favourite game of the visitors of Quakewiki.
Quake Tournament
Ever thought about just who is the greatest and most powerful being of Quake? Every week two monsters will go head to head. Vote on who you think would win in a one-on-one duel between the two and the winner will go to the next round. Also, after voting, visit the Quake Tournament page to write down why you think your chosen monster would kick the other monster's arse.

Today, after a horribly long battle, despite facing overwelming odds, the Berserker has claimed victory against this bitch, who you don't want to take home to mummy. Now for our 6th battle of Round 1, we will see the jumpity jumpy jumpness of the jumping monsters who always jump (or leap), the Fiend vs. the Spawn!