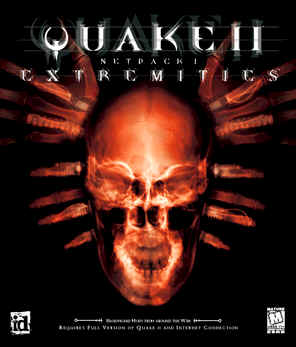 Quake II Netpack I: Extremities is a commercial add-on product for id Software's Quake II, consisting of selected custom modifications created for the game during 1998. For the most part, the included mods are completely new games based upon Quake II, and are all freely available on the internet in one form or another.
The compilation consists of 12 complete mods, as well as 12 custom deathmatch maps, new skins, patches to upgrade to Quake II v3.20, and even a shareware version of the server-finding GameSpy 3D software. It also comes with an install program that simplifies setup of all the mods and files and adds shortcuts to run them all from. The compilation was put together by Id Software and published by Activision.
Ad blocker interference detected!
Wikia is a free-to-use site that makes money from advertising. We have a modified experience for viewers using ad blockers

Wikia is not accessible if you've made further modifications. Remove the custom ad blocker rule(s) and the page will load as expected.