Quake II Mission Pack: Ground Zero
Talk

0
783pages on
this wiki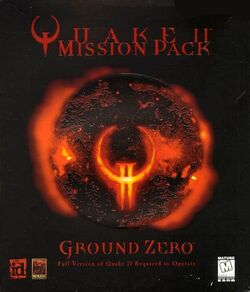 "Take out the Big Gun sounded simple enough, except the Strogg were waiting. You, and a few marines like you, are the lucky ones. You've made it down in one piece and are still able to contact the fleet. The Gravity Well, the Strogg's newest weapon in its arsenal against mankind, is operational. With the fleet around Stroggos, 5% of ground forces surviving, and that number dwindling by the second, your orders have change: free your comrades. Destroy the Gravity Well."
— id Software overview[1]
Quake II Mission Pack: Ground Zero is an official mission pack for Quake 2, developed by Rogue Entertainment and released on August 31, 1998 right after the release of first expansion.
Main Article: Quake II Mission Pack: Ground Zero Story
The Gravity Well has trapped the Earth Fleet in orbit above the planet. One of the marines who managed to land must now make his way to the Gravity Well to destroy it and free the fleet above and disable the entire defenses of the planet.
Unit 4 - Munitions Installation
Multiplayer Maps
Edit
RDM1 - The Low Road
RDM2 - The High Road
RDM3 - Boxed In
RDM4 - Razor Close*
RDM5 - Stone Hinge
RDM6 - Nexus
RDM7 - Sewer Citadel
RDM8 - Styx & Stones
RDM9 - Scenic Overlook
RDM10 - Great Divide
RDM11 - Dish It Out
RDM12 - Fall from Grace
RDM13 - Roads to Nowhere
RDM14 - Rogue's Edge
*Named Razor's Edge in the "Start network server" menu.
New Content
Edit
Reception
Edit
The game received mixed to positive review again as gamerankings rate the score 65.40%. Slighter lower than the first expansion and criticizing about the difficulty of the game itself. [2]
References
Edit
External links
Edit