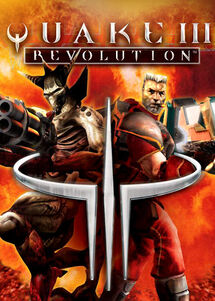 Quake III Revolution
is a fusion of
Quake III Arena
and
Quake III: Team Arena
, first released on March 26, 2001. This port got mixed to positive reviews, as it received controversy for the lack of Mouse and Keyboard support; as well as the lack of Online Gameplay. However this game was one of the first games to show the potential of the PS2. In Split-Screen mode, the screen is divided up to a maximum of 4 segments, depending on the amount of players that are willing to play or not.
[1]
Quake III Revolution contains all the Game Modes found in Quake III Arena, as well as some new modes.
Deathmatch / Team Deathmatch
Edit
Single Weapon Death Match / Single Weapon Team Death Match
Edit
One Flag CTF/ CTF
Edit
Possession
Edit
Campaign Exclusive
Edit
The game has two new bots, in campaign they appear after defeating the last Vadrigar:
Reference
Edit
=====
External links
Edit
Ad blocker interference detected!
Wikia is a free-to-use site that makes money from advertising. We have a modified experience for viewers using ad blockers

Wikia is not accessible if you've made further modifications. Remove the custom ad blocker rule(s) and the page will load as expected.