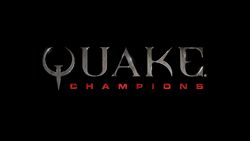 Quake Champions is an upcoming game in the Quake series.
The game will feature its own lore.[1]
Quake Champions is a PC-exclusive, multiplayer-only game, described as a "competitive arena-style, character-based shooter."[2] The game will be based on the gameplay of Quake III and Quake Live, while taking inspiration from the original Quake for its visual design. The selectable characters (referred to as "champions") all have passive abilities (e.g. extra speed), but the core style of gameplay remains the same.[1] These abilities are based on a rock-paper-scissors system, where certain abilities have natural counters. It is up to players to discover which champions work best together.[3] Loadouts do not feature.[1]
Development
Edit
The game went under the codename of "Lovecraft" during development.[1] It was revealed by Bethesda at E3 2016. More information will be revealed at QuakeCon 2016.[2]
References
Edit
External Links
Edit