Pentagram of Protection
Talk

0
916pages on
this wiki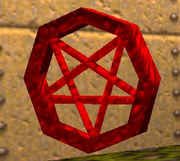 "Renders you invulnerable."
— Quake Manual
The Pentagram of Protection is a Quake powerup that makes the user invulnerable for 30 seconds. When the player takes the Pentagram, the screen takes on a golden, brighter tint. The player HUD portrait's eyes glow with golden light (the same way as in Spear of Destiny and Doom when God mode is on) and it seems to be smirking. The armor counter also replaces the armor picture with a picture of the Pentagram and the counter reads 666, no matter how many hits you take. Despite what the armor counter says, your regular armor will still take damage, so try not to get hit too much, or you'll have no armor when the Pentagram expires. The Pentagram will immediately expire upon switching levels. When the player is attacked, ethereal music in the major key can be heard with each blow. In multiplayer, it respawns every 5 minutes after it's picked up.
If a player tries to "telefrag" another player with the Pentagram of Protection, the "telefragger" will be the one killed. However, if both players have the Pentagram of Protection, then both will be killed.
Strategies
Edit
Single Player
Edit
In single player, the Pentagram appears throughout various maps, such as E4M6. It is very useful for carving out a path in an area filled with a ton of enemies, go grab your most powerful weapons as soon as you get it! Pentagrams are also very useful when you have low health and are approaching an area filled with enemies.
Multiplayer
Edit
A person that has the Pentagram will glow, informing players to run away! If you're being pursued by a player with the Pentagram, use Rockets to knock him around and away from you.
If you have the Pentagram, use it to perform Rocket Jumps without having to worry about health, to discharge into the Water without getting gibbed, and to get a ton of kills.
Timeout Message
Edit
Protection is almost burned out
The armor counter will read "666" when the Pentagram is in use. 666 is the Number of the Beast.