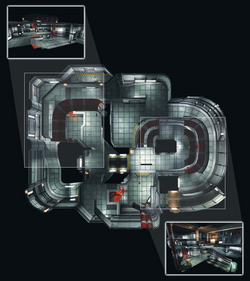 This tiny Quake 4 Deathmatch map favors those skilled in close-quarters combat. The looping corridors of Lost Fleet create natural circuits through the map, all of which meet in the spiraling pathways at one end of the map.
Don't miss the invisibility power-up in this area—the player who grabs that can stalk his opponents as they come through this busy junction and rack up the frags in short order.
Ad blocker interference detected!
Wikia is a free-to-use site that makes money from advertising. We have a modified experience for viewers using ad blockers

Wikia is not accessible if you've made further modifications. Remove the custom ad blocker rule(s) and the page will load as expected.