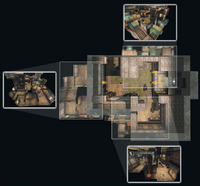 This special bite-sized version of the Fragging Yard map for Quake 4 is designed for Tournament play only. Most of the sprawl of the larger version has been eliminated, leaving only a lean, mean circuit.
The small armor vest in the map's wide-open center is a tempting pick-up, but if your opponent is on the ball, he'll be waiting for you to make that exact move.
Ad blocker interference detected!
Wikia is a free-to-use site that makes money from advertising. We have a modified experience for viewers using ad blockers

Wikia is not accessible if you've made further modifications. Remove the custom ad blocker rule(s) and the page will load as expected.