Place of Two Deaths is the first Deathmatch level of Quake. This map has very little variety in regards to weapons, with only a Double-Barrelled Shotgun, 2 Nailguns, and a Grenade Launcher. Due to the lack in powerful weaponry, this level is rather unpopular in comparison to the other Deathmatch maps. As the map has such a limited variety of weapons and only consists of a few rooms, it is probably best suited for two players (1 vs 1). The name further suggests that the map is intended for such purposes.
Spawn Locations
Important Item Locations
Weapons
Powerups
Room-by-Room Summarization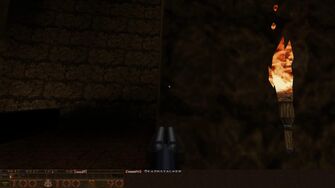 Multiple Arch Room
Staircase Room
Face Altar Room
Four Torture Victims Room
Ad blocker interference detected!
Wikia is a free-to-use site that makes money from advertising. We have a modified experience for viewers using ad blockers

Wikia is not accessible if you've made further modifications. Remove the custom ad blocker rule(s) and the page will load as expected.