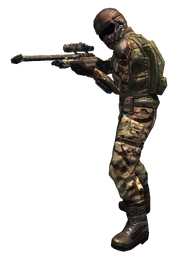 The GDF's Covert Operative specializes in stealthy infiltration, sniping, electronic sabotage, and reconnaissance. Operatives can use their PDAs to hack and disable enemy deployables, and deploy 3rd Eye cameras to spy on the enemy and relay their locations to his squad mates. The Covert Ops carries the N38 Sniper Rifle and smoke grenades.
Ad blocker interference detected!
Wikia is a free-to-use site that makes money from advertising. We have a modified experience for viewers using ad blockers

Wikia is not accessible if you've made further modifications. Remove the custom ad blocker rule(s) and the page will load as expected.